Announcements
Subscribe to posts
Here are the results for our students that participated:    

If you'd like to see all of the results, or see pictures of student entries, please click here.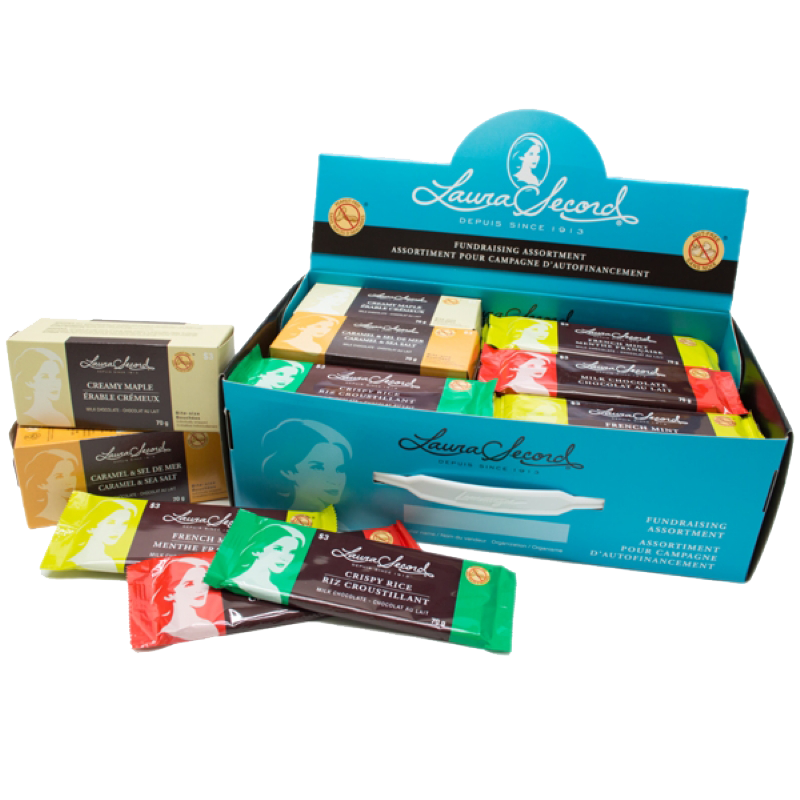 The students at CASS Intermediate will be selling chocolate bars. The chocolate bars are Lamontagne Belgium Boutique and they are guaranteed to be NUT-FREE. Each individual case contains 30 items to be sold including:  10 Milk Chocolate with Mint Bars, 6 Pure Milk Chocolate Bars, 6 Milk Chocolate with Crisp Rice Bars, 5 Milk Chocolate Caramel and Sea Salt Bites, and 3 Milk Chocolate Creamy Maple Bites. The chocolate bars and boxes sell for $3 each.
This fundraiser brings in approximately a 50% profit.

This means that students can make about $43 per case. 

Students need to indicate how many cases of chocolate bars they plan to sell.

Students must submit their form for many cases they want by Wednesday, February 13.
Once they have committed to this number, students/families are responsible for paying for any unsold chocolate bars. Unsold chocolate bars can NOT be returned to the school. Please complete the form below to indicate the NUMBER of individual cases your family would like to sell.
If you have questions regarding the fundraising, please contact Mr. Ingram at
ingrams@adsb.ca
.
Money for chocolate bars is due Wednesday, February 27.
We have formed our teams for Grade 7 and Grade 8.
Grade 7s will be playing in at least two tournaments (one at White Pines and one at Korah), whereas the Grade 8s will be playing every Monday and Wednesday after school in addition to the tournaments.
PARENTS:  Please check my calendar on this website - it has all times and dates on it!

As more information is available closer to tournament dates I will post it here.  Every Monday we will be playing at CASS with our Grade 8s, and every Wednesday we will take a small bus to play in the Sault.  Our games after school are scheduled to start at 3:30.
YouTube can be a great source of video clips to help you improve your game. 

Please be aware that these are very skilled players in these videos (except maybe the blooper videos ...). 

You aren't going to be playing at this level ... yet, but one day you might be.  This is your start down that road.
Here is a massive collection of videos for you to watch on nights we don't have practice:
Plus!!!  Tervis Tumblers
featuring all of the Canadian NHL Teams, Toronto Blue Jays and Toronto Raptors! 
BPA Free and Made for Life™ guarantee!
Fundraiser Starts TODAY!
All students were given fundraising packages today to bring home.
We would really appreciate EVERYONE'S participation.
 Money Raised will go towards their Grade 8 Trip.
1.
SHOP
online at
www.QSP.ca
with our
                 GROUP ONLINE ID: 3707965
Select from 100's of Magazines and Digital titles.
2.  Tell friends and family –
Or go to START HERE at www.QSP.ca site to use QSP's email and texting features.
3. Order through the catalogue – Return order forms to the school no later than: 

Wednesday, October 17, 2018
Cheques made payable to:

Central Algoma Secondary School
Thank you in advance for your participation and support of this literacy program.
Safety First -  no Door-to-Door Selling.
Customer Satisfaction Is Guaranteed! If you have any questions, call QSP at 1-800-667-2536
VEX IQ Challenge Next Level is played on a 4'x8' rectangular field configured as seen above. Two robots compete in the Teamwork Challenge as an alliance in 60 second long teamwork matches, working collaboratively to score points. Teams also compete in the Robot Skills Challenge where one robot takes the field to score as many points as possible. These matches consist of Driving Skills Matches, which will be entirely driver controlled, and Programming Skills Matches, which will be autonomous with limited human interaction.
Here is a link to the website that explains our challenge for this year. 

It also provides all documentation for the challenge.

Please watch these videos for more information:
Are you in Grade 7 or 8 and interested in joining our team(s) this year?

I expect that everyone who applies will have already looked over the website and watched the two videos above.
In your email, please provide:
3)  Why you want to join our Vex team(s)
4)  Any experience you may have with robotics already (it's not necessary though)

REMEMBER ... You are expressing your interest in this program.  Make certain your email is professional and you use full sentences.  Your spelling and grammar represent you as a candidate. 

Students in my classes will need to bring binder paper, pens, pencils, a red pen, erasers, and especially ... calculators.  As long as their calculator has a square root button on it, it will be fine.  I provide duotangs for all my Math and Science classes to use.

I am sending home a letter with all of my classes today and I'd like parents to please sign the bottom portion and return it as soon as they can so I know everyone is aware of my website and the Remind app.  I have also included it as an attachment below.

Many thanks,
S. Ingram